Exclusive Webinar
cEWM: RF-enabled online/offline mobile application optimizing SAP Extended Warehouse Management
Thursday, April 13, 2023 | 02:00 PM EDT
Warehouse management has transformed from manual to digital processes with the advent of various warehouse applications. Crave's Enterprise warehouse management (cEWM) offers advantages over traditional management, including flexibility, scalability, and customization. Next-generation warehousing through forklift integration, indoor mapping, and geofencing has improved the supply chain.
The implementation of digital technologies such as barcoding and QR coding has streamlined last-mile deliveries and resulted in significant cost savings. To further enhance operations and progress along the Warehouse Maturity Curve, organizations can adopt tools like RF-enabled mobile applications.
Register for cEWM webinar to leverage its benefits for supply chain, operation, IT, logistics, and warehouse teams. Don't miss this opportunity!
Shrikant Nistane
Digital Transformation Architect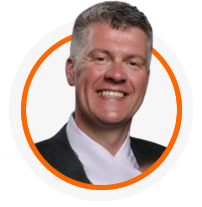 Jason Johnson
Client Services Director
LinkedIn
Join our Exclusive Group on LinkedIn
Get access to webinar recordings, whitepapers, case-studies, exclusive articles, and more...